Show your company is credible & trustworthy through great design
Attract your audience with irresistible custom graphic designs
When businesses engage in corporate communications it is important to convey your brand values, and the professionalism of your company alongside the information being exchanged. A legal correspondence, thank-you note or formal letter will require a letterhead which will have your brand on it. Just like the saying goes; The way you dress is the way you are addressed. So you should care about every element that is an extension of your brand image.
After we've created your logo, we'll incorporate it into your stationery design to maintain a uniform branding across all platform and elements.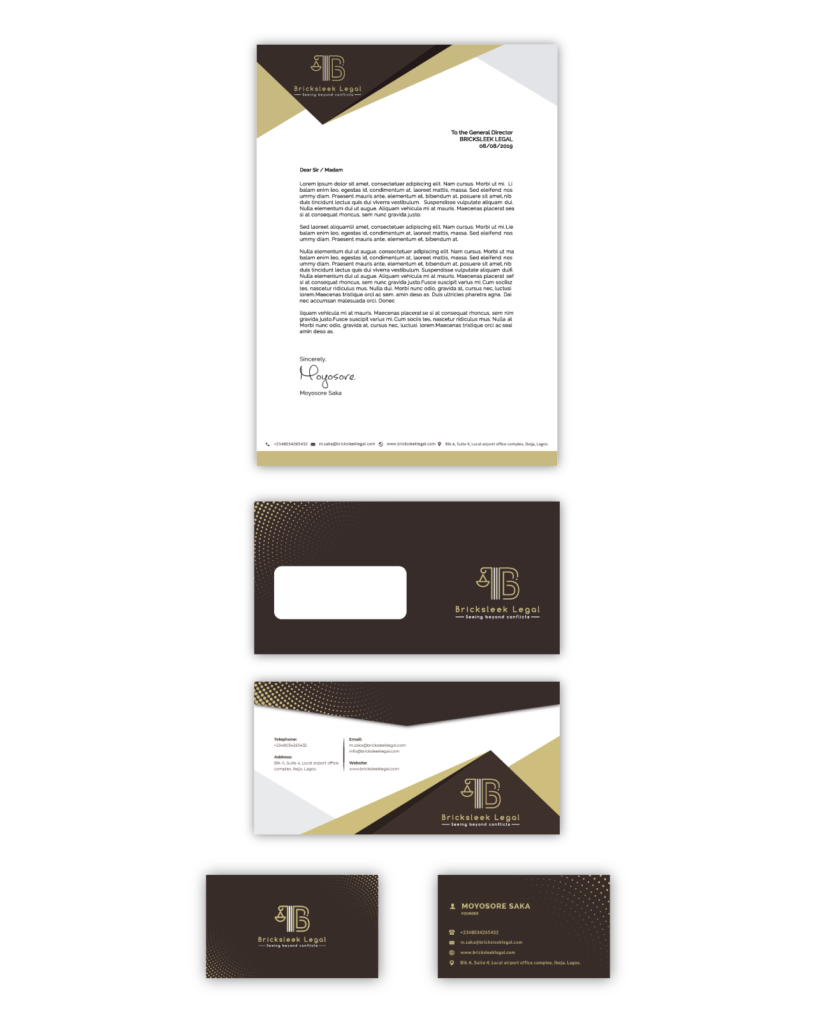 Boost your brand through stationery
If you run a small business, your brand does not have to look small. You can level the competition landscape by engaging professionally designed business stationery. The first hand impression your customers have about your company will tell them that you have a sizeable team working behind the scene to satisfy them.
Our stationary kit consists of three different packages. The corporate folder, A stationery element set which includes business cards, letterhead and envelope design while the third package is standalone business card design. All our designs are premium and custom which depicts your brand uniqueness. Backed by modularized graphic design project workflow, we deliver designs that are visually pleasing to the eye all the time.
Having us handle your stationery design project mean you will not only get optimal value for your money but also enjoy many of our unique deliverables such as:
Stationery Design Process
Our stationery design process starts at the goal definition stage where we consult with you and your team to understand your business and design ideas you may have. We then proceed to develop, design, revise and implement. The project execution follows a structured procedure that helps us to deliver your project on-time and on-budget.
Your project will be broken down into milestones and modular tasks which will be led by a dedicated project manager who will coordinate a team of expert designers and setup a business center for you so you have a centralised place to communicate and manage your project from beginning to end.
Stationery Design Services
You can begin your stationery design project with an initial deposit of 50% and pay the balance on project completion. 
Stationery design is an art that requires excellent design aesthetics as well as artistic imagination. We have designers who have experience in curating corporate brand elements. Our team work ensures we provide our clients satisfactory design services while maintaining the elements of accuracy, balance, simplicity, and uniqueness.
You can find answers to common concerns, questions and objections that you may have about the stationery design and branding packages. If you did not find answers to your questions, you may
request a free consultation
How to place an order to get start a branding project?
After deciding on which service package you want (corporate folder or stationery kit or standalone business card design). Simply select the package to view it's specific details or add the package to cart, then proceed to checkout. One of our team member will reach out to you as soon as your order is placed.
When do you start working on my design project?
We will begin work on your project as soon as you place your order by paying an initial deposit or full payment. A project manager will contact you to setup your business center and also collect the questionnaire form you filled
What if I want to perfect a design concept I have?
We would love to see and know the ideas you have for your brand design. We will work with you at the development phase to come up with messaging that imbibes your ideas, core values and personality of your brand
Do I get a custom design and own the stationery?
Yes you will get a custom designed stationery set unique to your brand only, and created according to your brand's specific messaging. The ownership rights will also be 100% yours
Feedbacks From Our Clients
We have been chanced to create beautiful design experiences for a number of clients who have now turned family. Our utmost desire is to see our client's business flourish by leveraging on the digital opportunity to increase revenue.

My studio just launched our completely revamped website and we couldn't be happier with the way the site turned out, and our experience with Smartecniqs Digital Solutions. They transformed our old and outdated website into a modern and incredibly attractive site. My project meetings with them yielded results in a short time

In this technological world, it is VERY hard to find someone who is knowledgeable, a true expert at what they do and someone who goes above and beyond for you like you are the only client that matters. Smartecniqs was able to connect my business on the various platforms I use and make it all automated. I highly recommend Smartecniqs.

We thought we had everything it takes to drive our business until we engaged Smartecniqs. Aside from giving us a fantastic brand, they also set our website to standard with fast and easily accessible email accounts. Our company profile is now competing with world class. Thanks to their extremely detailed, and professional team.